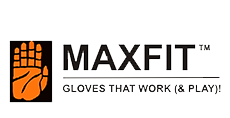 Maxfit Pro - Cut and Abrasion Resistant
Brand:
Maxfit Gloves
Product Code:
MG-PRO
Price:
AUD58.95
Ex Tax: AUD58.95
(Not sure of your glove size? To access our hand sizing chart Click Here)
Only Maxfit gloves have ThingloveTM technology. The new, longer-lasting, multi-purpose Maxfit Pro combines all the benefits of our regular Maxfit gloves plus cut-resistance and more.
They deliver the glove performance that professionals demand, including:
GRIPMAX — Incredible Grip!
– Provides extra hand strength and grip when working with oily and lubricated objects
– Made with proprietary performance-boosting fibers
– 400% better grip vs the bare hand, when handling slippery objects

NeverSlip — Reduced Hand Fatigue!
– Proprietary Polymer Technology delivers better grip in all conditions
– Reduces hand fatigue and improves grip by an extra 60% vs your bare hands

BISTRATA — Improved Dexterity, Flexibility & Cut-resistance!
– Boosts glove performance to a higher levels of dexterity, flexibility and cut-resistance
– Utilizes Layered Knitting Technology that improves flexibility while increasing cut-resistance
– Highest Level 5 Dexterity

PRIMOFLEX — Spandex for Flexibility and Fit!
– Best for prolonged work periods – ultra-high dexterity and flexibility
– Uses stretchy knit Spandex & Composite Fiber Technology
– Ultimate Flexibility & Fit

SCUTA — Cut-resistance!
– Excellent for medium duty work where nicks and abrasions may occur
– Made with Ultra-high Molecular Weight Fibers
– 12X stronger than steel, Level 3 cut-resistancel

According to statistics available in the public domain, the average compensation for OSHA recordable hand & finger injuries is more than $3800. The average medical payment is more than $2500. In the US alone there are over 420,000 lost time-work injuries involving the hand and fingers per year. The cost to industry is huge.

Cut Resistance capability of gloves has become a primary concern when evaluating how to provide cut protection. Consideration of just cut resistance alone when selecting hand protection leads to a false sense of security. No cut resistant gloves work unless workers comply with safety requirements and continuously wear them. So comfort and dexterity are essential!

Besides mechanical guarding and associated interlocked safety systems, cut protection is derived from a combination of influences that tend to prevent a worker from being cut.